Photo-Sonics, Inc. is pleased to announce the addition of the Fly-Out system to our robust line of optical tracking mounts. Our Fly-Out system is a high performance, mid-sized optical tracking system capable of tracking high-dynamic targets and capturing Time-Space-Position Information (TSPI) data, six degrees of freedom (6DOF) attitude data and high-speed sequential image data.

This system can be equipped with six or more multi-spectral sensors and lenses, including zoom lenses, to allow multiple missions to be accomplished without the need to reconfigure the sensor suite. The system is designed to accept larger optics and/or distance measuring equipment on the outboard payload platforms.
The Fly-Out system can track from sidereal speeds up to 120°/second with acceleration up to 120°/second² even with a nominal payload in excess of 1,000 pounds. With this wide performance envelope, it is a very versatile, multi-use optical tracking gimbal. The high dynamic performance of the Fly-Out system records very large, high-quality images that are ideal for calculating 6DOF data.


Features
Fully Integrated Argus Pedestal and Sensor Control Software
Real Time TSPI Data Output
Single Station Solution Option  
Sensors and System Timing Synchronized to GPS/IRIG
Multi-Gate Video Auto-Tracking System
Remote-Control Console


Deployment—The Fly-Out gimbal can be deployed as a fixed pedestal in a dome, on a ship with stabilization, or with a custom-designed trailer specifically engineered to provide the accuracy of an optical bench in a mobile configuration.
Robust Pedestal Construction—Photo-Sonics utilizes Almag35, an aluminum magnesium alloy, which provides excellent corrosion resistance to support long life with minimal maintenance in the harshest environments. We use only full-size bearings to provide the highest stability and accuracies, as opposed to narrow diameter bearings found in lesser systems. We provide powerful DC torque motors in both the azimuth and elevation axis, coupled to 24-bit optical encoders.

Local Support Electronics—The modularity of the Fly-Out control electronics supports multiple installation scenarios largely dependent on the type of communications link being used between the gimbal and the control station. Equipment required for real-time operation of the gimbal, sensors, and optics is usually located in environmentally conditioned enclosures in the trailer close to the gimbal. If a low bandwidth data link is used (such as a microwave link) then the digital image recorders and video trackers will also be located local to the gimbal and standards-based video streamers will be supplied to send video to the control station. If a high speed (dark fiber) link is used, then much of this equipment can be co-located at the operator station.

We can provide an optional hand-held tablet computer for ease of system setup and checkout at the pedestal.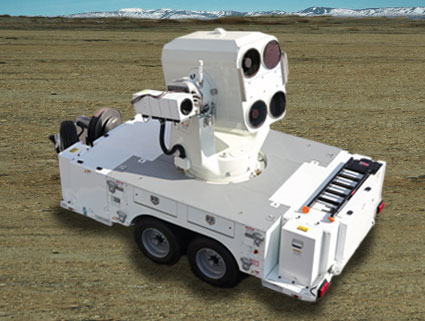 Multispectral Imaging and Tracking System (MITS)
Fly-Out Tracking System with side-mounted optics.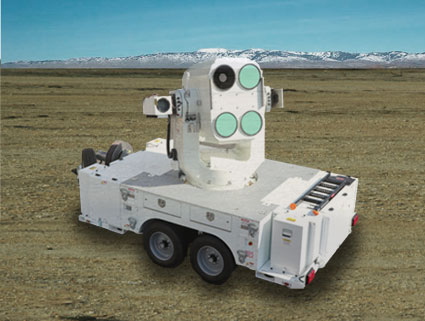 Multispectral Imaging and Tracking System (MITS)
Fly-Out Tracking System with side-mounted radar.